In this video Roger Bisby finds out more about the new Gyproc Habito plasterboard which you can screw straight into without the need for plugs or special fixings.
The high-performance plasterboard from British Gypsum is the latest addition to the Gyproc performance board range and has been designed for use in the residential sector.
You can hang radiators and kitchen cabinets straight onto it. No more looking for the stud or cutting out sections to insert noggings. It is suitable for direct decoration or a Thistle plaster finish.
Gyproc Habito uses patent (s) pending technology to provide inbuilt fixing performance in a plasterboard. A no. 10 woodscrew will provide a safe working load (SWL) of up to 15kg per fixing. We recommend that you follow the manufacturer's guidance as to the number of fixtures required to mount a fixture. Example: If a TV weighs 15kg with its bracket and the bracket accepts four fixings, you should use four screws, even though this provides 60kg safe working load.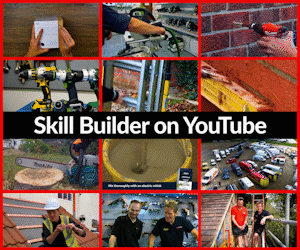 What is a safe working load for Gyproc Habito?
British Gypsum states that Gyproc Habito has a safe working load of 15kg when used with a no. 10 woodscrew. The safe working load is calculated by this fixings failure point divided by a factor of four, so a no. 10 woodscrew would require 60kg to fail in Gyproc Habito.
Can I use any woodscrew with Gyproc Habito?
No. British Gypsum recommends that a standard single thread woodscrew is used. Fixings with cross threads for chipboard will reduce fixing performance. You also need to ensure the woodscrew does not have a threadless shank. The length of the screw used should be sufficient to pass through the fixture being mounted and completely through the board. Be aware of the substrate the board is fixed to and always check for pipes and electrical cables prior to fixing.