A simple low-tech chimney insulator is applying to become approved by OFGEM and the British Board of Agrement (BBA) following two years of rigorous testing.
Chimney Sheep, invented by an ecologist from Cumbria four years ago, has already saved UK homeowners £2.5m off their energy bills and is said to be capable of saving the nation a further £691,500,000 per year.
Over 11m homes in the UK have an open chimney, yet the majority are un-insulated, essentially leaving an 'open hole' in the home for expensive warm air to escape out of.
Research by University of Liverpool, commissioned by Chimney Sheep, proves that 4% of a home's heat is lost through the chimney and insulating it will save an average of £64 per year and pay for itself in six months.
BSRIA has spent two years studying the product's effectiveness and energy saving credentials, a long, complex procedure that all energy reducing products must go through ahead of being officially recognised.
Once approved, the product could be listed as a home insulation device by the big six energy companies, meaning even more homeowners nationwide would be aware of its advantages.
Chimney Sheep has benefited from official support throughout the process – the Department of Energy and Climate Change (DECC) has provided it with a grant to help finance the procedure plus ongoing technical advice to ensure Chimney Sheep successfully makes it through the testing.
Chimney Sheep inventor and ecologist Sally Phillips says: "Getting Chimney Sheep officially recognised by OFGEM and BBA is one of the final stages of introducing the product to the British public. It has received energy saving awards, numerous accolades, government grants as well as support from a plethora of financial, consumer and environmental journalists here in the UK and now the US too. As well as being sold in a number of outlets here in the UK, including B&Q, It's also now being sold internationally.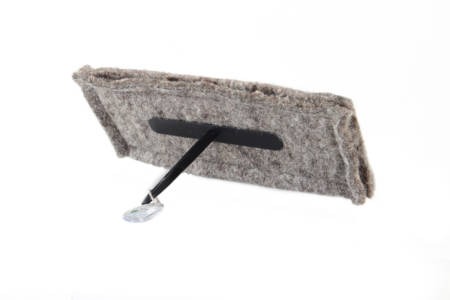 TV personality and home design expert Kevin McCloud is a keen supporter of the product and selected it to appear as a 'green hero' at his Grand Designs Live events last year.
He said: "Sheep wool is insulating, durable and naturally hygroscopic – absorbing and releasing moisture slowly. That's what makes it ideal as a chimney stop. Any home with one chimney will lose 4% of its energy up the hole, so it makes simple, obvious sense to block the flue and insulate the blockage at the same time."
The breathable Chimney Sheep, which comes in various sizes to fit all chimneys, keeps expensive, warm air within the home while still allowing for chimney ventilation to keep damp at bay.