Skill Builder's 'Day in the life' feature takes a look at a typical day in the life of different tradespeople. In this installment, we talk to the inspirational Kevin Skeith who, against all the odds, recovered from a serious motorcycle accident which threatened to leave him as a quadriplegic. He now runs a thriving flooring business and became Dickie's UK Worker of the Year 2016.

Name: Kevin Skeith
Trade: Domestic and commercial flooring supply and installation
Company: Kevin Skeith Flooring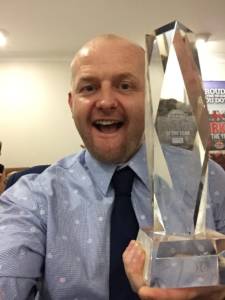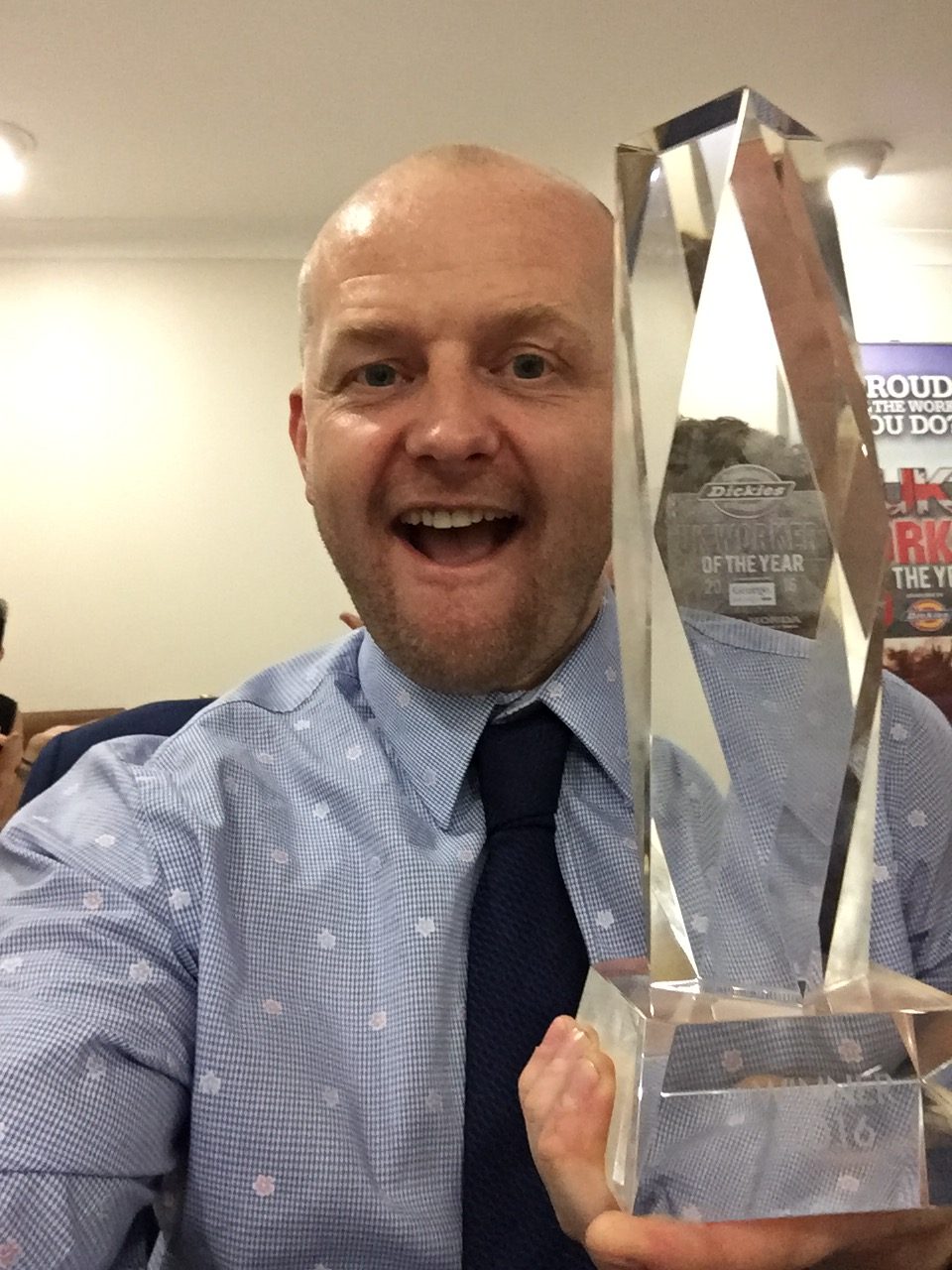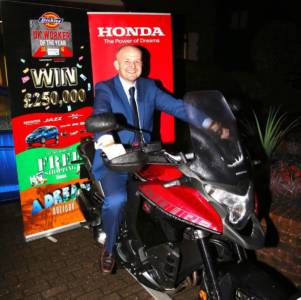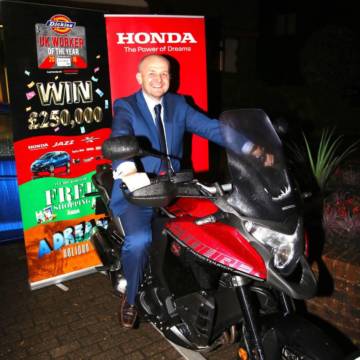 What time does your day start?
The alarm goes off at 6.30am. I get our children (Hayden 3 and Reuben 1) up, washed, fed, dressed and ready for nursery.
What gets you out of bed in the morning?
Easy. I love my job, I enjoy meeting new people, I like being on my knees in the trades, I enjoy seeing the transformation that new flooring makes and I get a great satisfaction from seeing the end result of a completed flooring install, whether it's a small bathroom or large commercial premises.
My job is also the thing that provides for my family and I get a great buzz from showing my family the pictures of my work and knowing that my family also has pride in the work that I do.
What does a typical day entail for you?
I'm up and loading up the day's work by 8am. Go to the store collect the day's materials and tools, cut up any flooring required. Arrive with the first customer by 9am. I'll fit carpets, vinyls, laminates, engineered and real wood, contract vinyls and luxury vinyl tile feature floors, I screed floors, ply floors, perform damp tests and damp proof floors too. My days are very varied and that's all part of the joy of being a flooring fitter for me.
I might have up to six houses a day or I might be at one address all day long. I generally get home between 5pm and 6pm. If I can, I collect my children from nursery and walk home with them and I have Thursday afternoons with them too, but I work Saturday to make up for the lost time in the week. We eat tea as a family, I do the bedtime preparations and stories then after 7pm I'll go out again and visit customers to do quotes and show them samples, often getting back in around 9pm. After 9pm I will email suppliers and order materials, type up quotes and deal with social media requests on facebook and twitter.
What's the best thing about your job?
The customers and the job satisfaction; every day I see a room transformed and a customer who is happy and appreciates my work and the products I supply.
My customers are a vital part of my business; they champion my work in public, in the press and on social media and I wouldn't be where I am if it wasn't for their support.
What's the worst thing about your job?
Having to challenge the sometimes negative perception of flooring fitters. Some say that anyone who can hold a knife can fit a carpet. To a degree that is true, the mechanics of fitting a carpet are not particularly hard but to be doing the job to a high standard, with a professional approach and covering a wide range of materials with great product knowledge takes dedication and commitment.
As a flooring fitter there is very very little room for error, and small mistakes can be very very costly so your concentration levels have to be high
Thankfully in recent years, I have seen a welcome change in the trade with the introduction of more professional qualifications and more fitters getting qualified and standards being raised.
What qualifications do you have?
I'm Grammar School educated with 9 GCSEs and a GNVQ in Construction & the Built Environment.
I started in flooring fitting before there were qualifications, you went with a fitter for two years who taught you the job and when he thought you were ready he told the boss, the boss went with you for a couple of weeks and if you met the standard they needed you were let loose with your knives among the general public.
Since then I have been on several flooring training courses. I am FITA (Flooring Industry Training Association) trained in resilient flooring and luxury vinyl tiles. I have been on several flooring industry supplier courses (adhesives and subfloor preparation) including Mapei, F Ball, Ardex, and Uzin.
I'm asbestos awareness and removal trained. Later this month I will be taking the Moduleo Moods advanced installer course and I'm also booked in for two further manufacturer installer courses for later in the year, one for laminate flooring and one for luxury vinyl tile installation.
I'm also currently doing my NVQ Level 2 in both hard flooring and my NVQ Level 2 in soft furnishings & carpets.
Measure twice, cut once – most serious errors in my job come about through mismeasurement, which result in miscalculating sizes and areas, which means either extra expense if there is wasted or excess material or stupid unnecessary delays if there isn't enough
What tool couldn't you live without?
There are two:
1. My phone. It's my communication device, my calculator, my diary, my emails, my social media access and it's my also my arch nemesis and the bain of my life.
2. My Stanley Tylon 8m tape measure. Measure twice, cut once – most serious errors in my job come about through mismeasurement, which result in miscalculating sizes and areas, which means either extra expense, if there is wasted or excess materia, or stupid unnecessary delays if there isn't enough. I prfer tylon tape measures because in my experience metal ones twist and get bent too easily, then they either go brittle and snap or won't retract correctly. I also find that the tylon ones don't flick about as much when measuring down stair cases and the edges aren't as sharp as metal tapes, so they don't cut you by mistake.
What do you drive?
A high roof long wheel base Ford Transit, 200bhp and fully loaded with all the extra's. I spend a massive amount of time in my van, if it doesn't work I don't work. I over-service it and treat it like a princess.
What do you do to unwind?
I love spending time with my wife Anna and children and our two dogs Missy and Sweep.
I now also ride a motorbike again, I've been a fan of motorbikes and motorbike racing since I was young. I broke my spine in 2010 in a horrific motorcycle accident and was told to expect to be a quadriplegic for the rest of my life. Thankfully the amazing doctors and specialists at Queens medical centre in Nottingham saved my spine and gave me my life back. The accident was a turning point in my life and a catalyst to get me to where I am today.
Since recovering from the spinal injury,  I have got married and had two beautiful children, I have worked tirelessly to get us out of the financial debt the accident caused, to build myself back up and to get back to work, and to build up my reputation and customer base.
The accident was also a significant part of my story and it explains where I came from, went through and why I went on to win the Dickies UK worker of the year in 2016.
What advice would you give an up and coming apprentice.
1. Take the grief the 'old boys give you', it's meant in jest and if they are having a laugh with you, it's because they like you. The other reason they will give you grief is because they can see your potential, we know if you are a natural with a knife, and if you are we want you to be the very best you can be, we aren't going to get off your back until we have seen that you have got to where you deserve to be.
2. Train hard, work hard and make the customer the focus of your work. Customers are the people you need to please, if the customer is happy, your boss is happy and in turn you'll be happy.
3. When you do think you've qualified and you 'know' it all, think again, there is always something new to learn, a new approach to try and a new skill to gain and a new product to learn about that you haven't heard of.
4. Never sell yourself short. If some one calls you it is because they want you to use your skills for them. Never forget that.
and finally
5. Be kind…. you never know what is going to happen, so you never know when you might need a favour back.