The XtraHand, a new, innovative hands-free dust extraction tool for drilling, cutting and grinding, is now available exclusively from Häfele UK.
The device that fits onto hose-mounted vacuums and sticks to almost any flat surface is ideal for tradespeople, furniture manufacturers and DIYers helping to minimise airborne particles and mess.
The XtraHand, which appeared on BBC Dragons' Den (16 March 2023), is the only tool on the market that is compatible with all drill bits, including spade, bullet, masonry and auger bits, as well as tile drills and hole saws.
Invented by carpenter and cabinet maker, Alan Gillett, it also works on various surfaces such as wood, metal, plastic, concrete and brick – and will even attach to ceilings.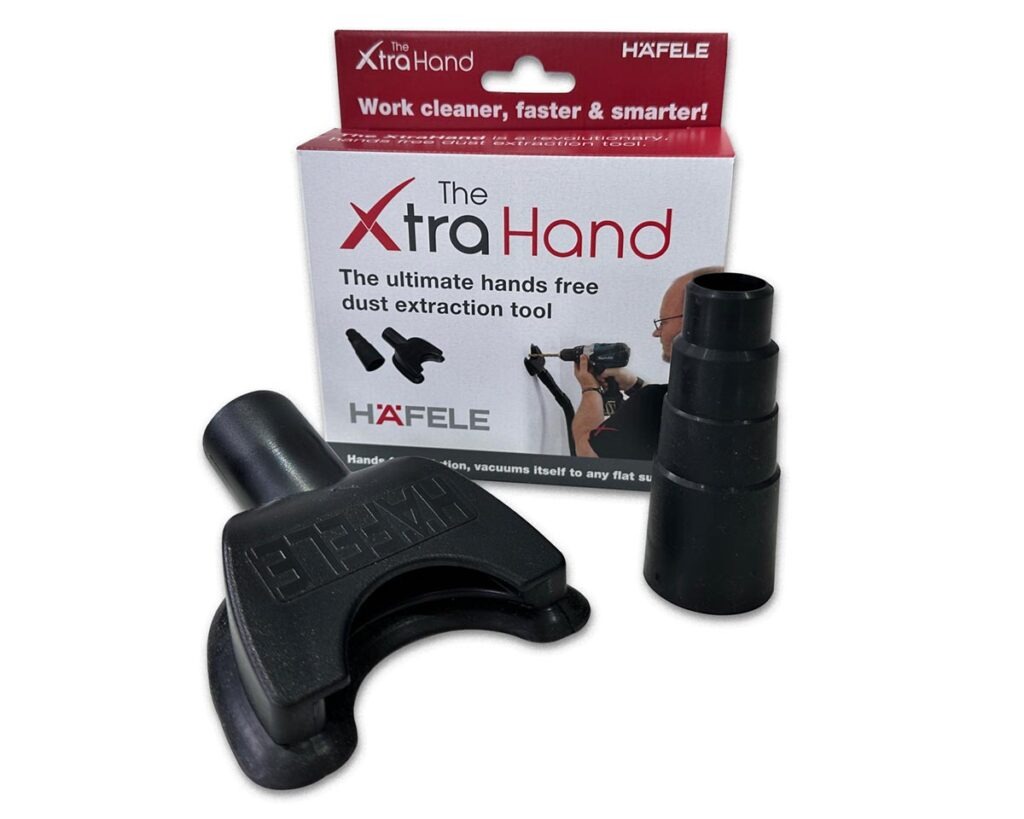 Helping professionals conform to Health & Safety Executive requirements on protecting against the risks of hazardous construction dust, The XtraHand gives 'on-tool' extraction and helps trades keep sites and customers' homes tidy.
"The XtraHand is a simple yet ingenious bit of kit that anyone who uses a drill or grinder should have in their toolbox and we can see why it caught the attention of dragon, Peter Jones," said Tom
Fletcher, Product Innovation Development Manager at Häfele UK.
"While Alan decided to turn down the dragon's offer, we're excited to have formed an exclusive distribution agreement.
"As a manufacturer and distributor, we supply thousands of tradespeople and furniture manufacturers,each year with components, fixing materials, tools and PPE, so adding The XtraHand to our range
was an easy decision.
"We know it'll be a welcome extra pair of hands that will help protect our customers and cut down on cleaning up."
Commenting on the agreement, Alan Gillett, inventor of The XtraHand said: "As a carpenter and cabinet maker by trade, I've used Häfele products for years so when Tom and I met, it felt like a
natural fit immediately and I knew the company's scale and customer base had the potential to take The XtraHand to the next level.
"When people see the product, their immediate reaction is: 'why hasn't this existed before?' so I can't wait for more tradespeople to see The XtraHand and use it to safeguard their health and improve their
efficiency on jobs."