Keylite Polar is a brand new white PVC roof window which is said to establish a new standard in maintenance free, energy efficient roof windows. Roger Bisby takes a closer look.
It surprised me to learn that the number of white roof windows now being sold in the UK is almost half of the total and if the trend continues the Scandinavian style plain pine window will become something of a rarity if not an endangered species. I, for one, hope it doesn't disappear because I like to see a bit of timber.
Part of this move to white is because customers now like the idea of the roof window blending in with the ceiling rather than being a stand out feature. They may also have white PVC windows in the rest of the house so suddenly switching to timber for the roof windows is somewhat illogical. So if customers have already embraced the idea of a white roof window, the Keylite Polar PVC roof window is bound to be received with open arms, which, coincidentally, is the way Polar bears tend to greet you shortly before having you for lunch.
If customers have already embraced the idea of a white roof window, the Keylite Polar PVC roof window is bound to be received with open arms, which, coincidentally, is the way Polar bears greet you shortly before having you for lunch
I don't want to get into that tired old timber versus plastic argument, both have their place, but in practical terms PVC has a lot going for it in areas of high humidity such as kitchens and bathrooms.
It also has enhanced insulation because of the trapped air pockets in the multi-cavity PVC extrusion. So if you are looking for a good window to keep out the cold this window is right up there on top of the world, so to speak. It has been described as the 'Daddy of roof windows' which is not to belittle the contribution that female Polar bears make. All those endless shopping trips to Iceland and hours spent slaving over a hot stove.
But there is more to the Polar than high insulation levels, the Keylite Polar shares its pedigree with other windows in the Keylite range. It has the same Flick Fit brackets and spring-loaded finger hinges, that have proved such popular features.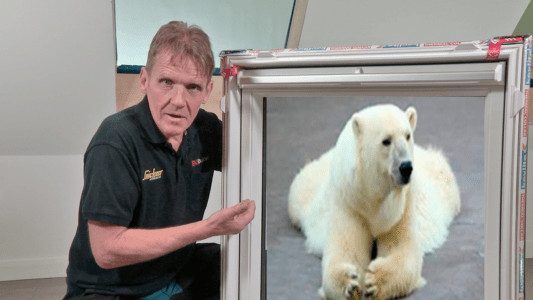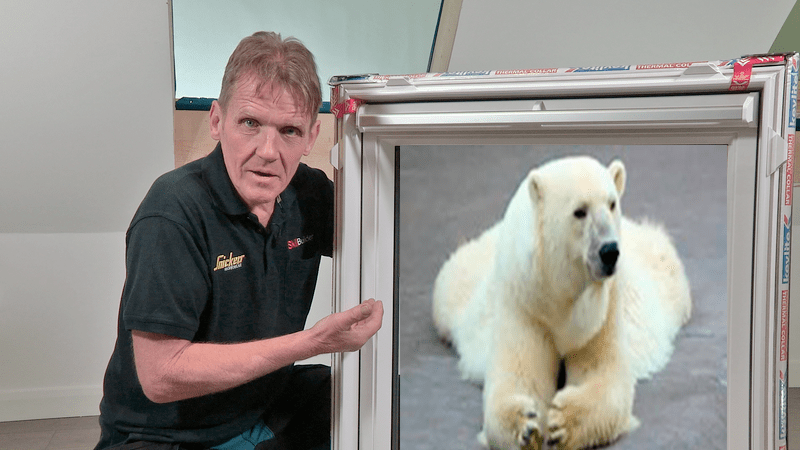 Easy installation
For those of you who have yet to fit your first Keylite window (Keylite virgins white as the driven snow) I can tell you they are an absolute doddle. The brackets are already attached to the window and, in this case that means they are fitted into the steel reinforcement inside the frame so you don't have to do any drilling or measuring to work out the bracket positions. This is a bonus in any roof window but particularly so in a steel reinforced PVC.
Because of the way the Flick Fit brackets operate you can fit the window with the glazed sash in place and then take it out afterwards if you want to fit the flashing from inside the roof. When it comes to putting that glazed sash back in you will see another big difference between Keylite and other roof windows. Instead of having dangling finger hinges they are spring loaded. They have taken away the dangle so they stay in position rather than responding to gravity. It is therefore a very simple task to guide them in without one side slipping out while you put in the other side, and once they are, in you simply close the window as normal to activate the retaining buttons.
Thermal collar
The third stand-out feature of Keylite roof windows is the built in thermal collar. To be fair most, if not all, roof windows have an optional thermal collar to prevent cold bridging across the frame and these collars are highly effective in increasing the overal U value but very few installers bother to fit them. This could be because they don't know about them or it could be that they simply don't want to fork out the extra money for a thermal collar so, even though, everyone agrees that a thermal collar is necessary very few ever get fitted and that means that merchants tend not to stock them.
Keylite looked at this situation and decided to take responsibility for fitting this thermal collar in the factory as standard and rather than charging the extra they swallowed the cost. The bottom line is that the customer gets a warmer window for the same kind of money as other quality windows and the installer gets an easier life. Happy days.
If you want to see the Keylite Polar in action visit Keylite.co.uk and watch Roger Bisby demonstrating the way it works. No animals were harmed during the making of this video.