Nitromors Paint and Varnish Remover is one of the most famous brands in the decorating industry.
It has been around since the 1930s and has been used to remove many paints, varnishes and other coatings.
In 2009 the EU introduced legislation banning methylene chloride, a solvent that Nitromors had used in their formulation.
The ban on many solvents and the removal of lead from paint has undoubtedly had a beneficial effect on the health of painters and decorators across Europe and I welcome it.
The challenge for Nitromors
Reformulating their magic liquid in a way that kept Brussels happy and just as importantly, did the job for the painter and decorator. By all accounts it was not a straight line from A to B.
Nitromors launched a viable product which,  if left to act,  did the job eventually but the feedback from the trade was that they wanted a bit more of a show to indicate the product was working.
In effect, they wanted to see the kind of blistering and bubbling that was evident with the old product. So it was back to the test tube in the Henkel labs.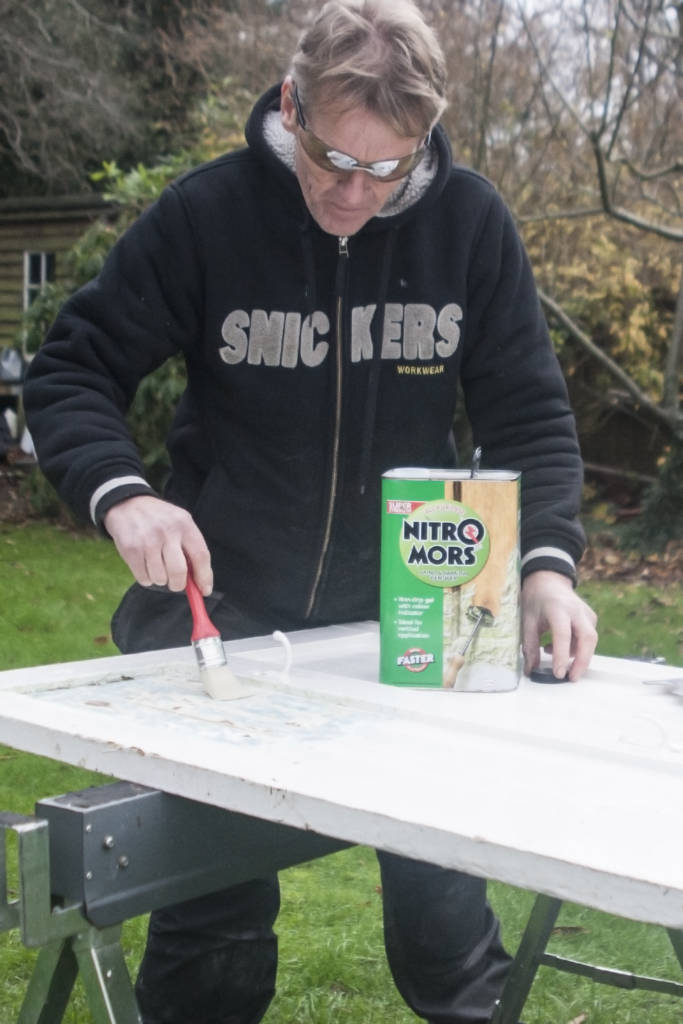 In this new formulation, there is faster blistering of the first layer of paint but it is not a deep-searching product.
You need to apply it with a stippling action and leave it to blister for 5 to 10 minutes.
Once you see evidence of some action all over the surface you then have to stipple the Nitromors sitting on top of the blistered paint back down onto the paint layers below. It won't do it without help. This is the fundamental difference between the old and new formulations.
I have a long term paint and varnish stripping project that I attack in stages so I was in a good position to test both the Nitromors All-Purpose and their Nitromors Craftsman's products.
The varnish I was removing is that thick dark brown wood effect coating that was popular around 60 years ago. If you try painting over it, in time the paint just flakes off.
So removing this troublesome surface has been an ongoing job that I have to psyche myself up for. That said it has given me the ideal place to test sanders, hot air guns and chemical strippers.
Of course one of the great advantages of chemical striping is that you don't have to vaporise lead-based paint or other hazardous material, and you don't create dangerous lead-based dust.
If you catch the Nitromors and paint in newspaper you can then wrap it up and dispose of it in an environmentally responsible manner.
The whole process is a lot less intrusive than burning or sanding but should be done with the windows and doors open to provide good ventilation.
Even better, if you can take doors off and apply Nitromors in the open air.
However, Nitromors is a non-drip gel consistency and can, therefore, be used on indoor vertical surfaces such as doors, stair spindles, and window frames etc.
In addition, it is coloured green and this enables you to easily see where it's been applied.
The new Nitromors formulation worked surprisingly well on the varnish but on other surfaces not as well as the pre-legislation product.
If you follow the pack instructions you should get reasonable results but with all multi-layer paint stripping jobs you are working, like Time Team, down through layers of history and you never know what you are going to get.
Some coats yield easily and some put up more of a fight. We now have the added complication that it is likely that some of those coats may be water-based.
So you will inevitably get a variable result in terms of time and effort needed to strip any given surface.
If you are a professional decorator my advice is to try to do stripping on day rate rather than a price or, if you have to give a price, make it a good one.
I have reported my findings on this product as honestly as I can but I was surprised the lengths the manufacturers have employed to try and have my copy altered to reflect their own view, which is that this product is a perfect replacement for the old formulation.
It indicates a degree of nervousness on their part, and you can read into that what you will.
Buy Nitromors Paint and Varnish Remover
Nitromors All Purpose Paint Remover 750 ML
Nitromors 1772732 Craftsmans Paint and Varnish Remover
Nitromors 1770428 All Purpose Paint and Varnish Remover
---