Birkdale, the UK's leading wholesale supplier of gate and fencing accessories is delighted to announce added functionality to its DuraPost® FenceBuilder App for DuraPost® Trained Installers. Through the new mobile software, DuraPost® Trained Installers can now quickly generate and send tailored fencing quotes – directly to their customers.
Over the last few years, DuraPost® By Birkdale has become widely recognised as the go-to-alternative to concrete and timber for all commercial and domestic fence installations. Now, with its enhanced DuraPost® FenceBuilder App, DuraPost® Trained Installers are able to specify the solution more easily and in a streamlined manner.
Upon signing up to the application, DuraPost® Trained Installers gain access to the simple-to-use mobile software, which enables them to instantly generate fencing quotes that can be sent on to customers via email.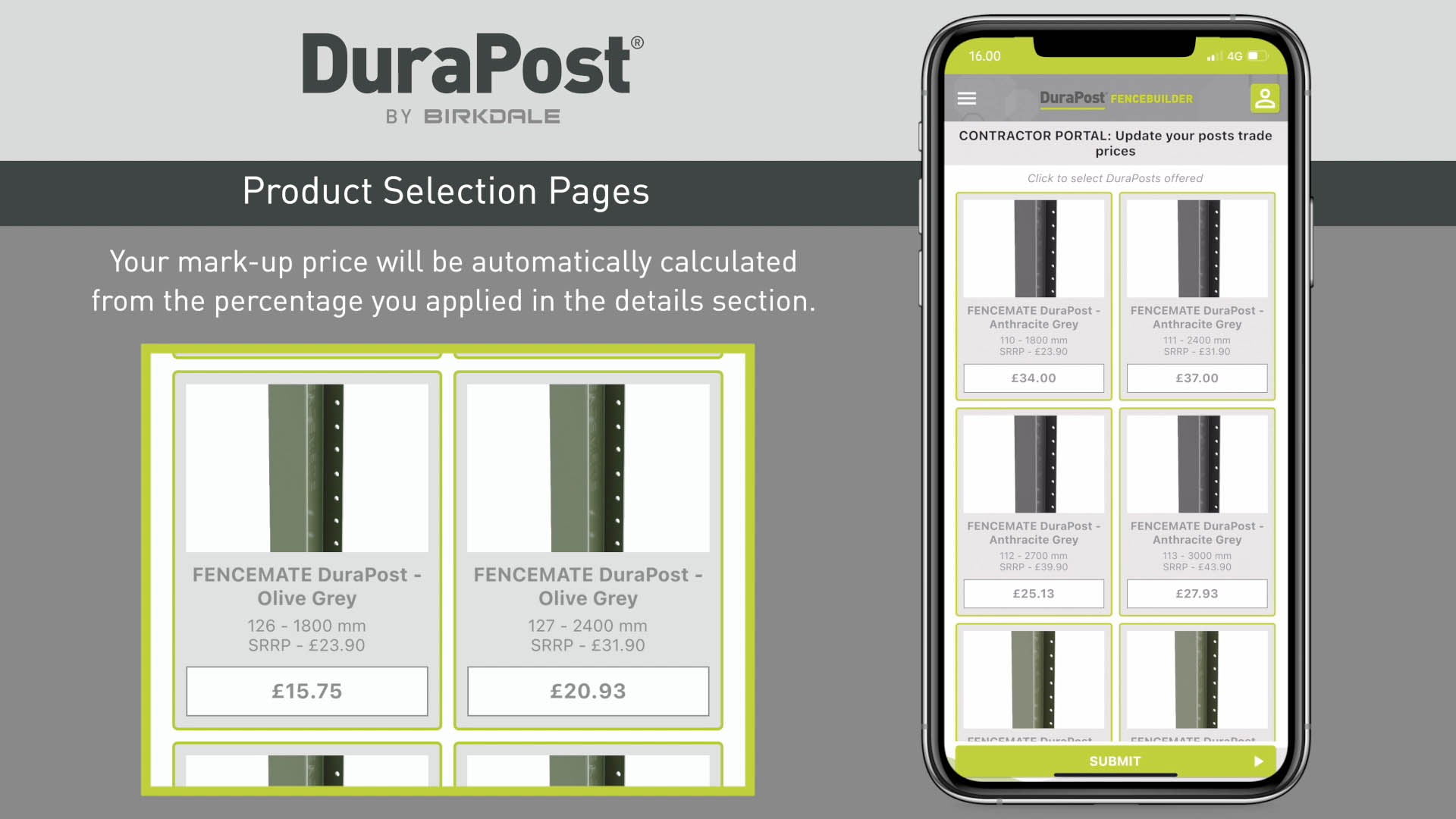 As such, the DuraPost® FenceBuilder App modernises the fencing specification process. The application allows trade professionals to select different DuraPost® solutions to create their ideal fencing solution.
In turn, the software then creates an on-screen visualisation of the chosen products. Designed for DuraPost® Trained Installers, the innovative mobile software allows tradespeople to place their own mark-up percentages to any chosen solutions. Additionally, labour costs can also be applied through the application to ensure that all rendered quotes are accurate.
Through the application, customers and installers can decide on the appropriate building method, colour and material of their desired fencing system. Similarly, users are able to make further design choices when it comes to supporting parts and accessories, gravel board material, as well as fence and gate panel styles. Built with ease of use in mind, the mobile software follows a step-by-step process to ensure it is both simple and straightforward.
Once the solutions have been selected, the application can generate a digital quote, which can then be sent directly to customers. To provide further functionality, the system also provides DuraPost® Trained Installers with a handy calendar, which they can use to book in upcoming jobs.
By using the application, those in the trade are able to more effectively manage the creation, organisation and scheduling of forthcoming jobs, as well as being able to check the status of various ongoing projects. Additionally, DuraPost® Trained Installers are able to earn points from each DuraPost® installation, which they can later redeem for a variety of vouchers.
Ed Harvey, Group Marketing Director at Birkdale commented: "With the new DuraPost® FenceBuilder App, trade professionals are able to offer customers a modern approach to the fence specification process and can deliver even greater levels of service.
The application is very easy to use and available to download for free via the App Store and the Google Play Store. By using the enhanced application, DuraPost® Trained Installers are also able to earn points through the DuraPost® Reward Scheme. In turn, the earned points are then redeemable against a range of vouchers, which can benefit you and your business."
As always, DuraPost® By Birkdale offers a number of important benefits for installers and customers alike. The lightweight solution is far easier to fit than concrete alternatives and can often be managed by a single fencing professional.
Additionally, the innovative galvanised steel fence post system provides long-term durable performance and is backed to deliver up to 25 years of performance. Through this time, the system will not rot, split, crack or warp and has been wind-tested to withstand winds of up to 110mph.
For more information on the enhanced application, or to learn more about the DuraPost® Trained Installers scheme, please visit: www.birkdalesales.com/durapost.