With the help of a number of well-known faces from across the construction industry Geocel has launched the ecoSEAL Challenge. Part of a six-month campaign to encourage those in the trade to reduce their plastic waste, the company is offering tradespeople the chance to take up the challenge and try the ecoSEAL system for themselves, for free.
A number of trade influencers have already taken the challenge and documented their experiences, including Julian Perryman, Roger Bisby and Wayne De Wet.
Geocel ecoSEAL Challenge
Now Geocel would like to give anyone in the trade the chance to try the innovative system for themselves and pledge to reduce their plastic waste.
Those that are interested will be sent an ecoSEAL product, to try it for free.  Participants will be able to choose from Painters Mate, DOWSIL ecoSEAL 785+, DOWSIL ecoSEAL 796, DOWSIL ecoSEAL 799 or Geocel ecoSEAL THE WORKS PRO sealant and adhesive – and they will also receive an ecoSEAL sleeve, which can be used up to 75 times.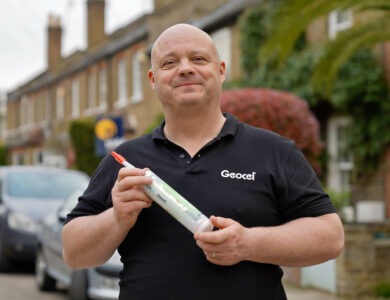 Recipients will be encouraged to film their own product review and post an ecoSEAL Challenge video to Geocel's social media channels for their chance to win a £500 voucher. A new winner will be chosen by Geocel every month.
Laura Hettenbach, Senior Trade Brands Campaign Manager at Geocel commented: "We're excited to be working with a number of well-known faces to encourage the wider sector to do their bit to reduce plastic waste. With over 100 million plastic cartridges ending up in landfill every year, it is vital the construction industry works to become more sustainable.
"Sign up today to try the ecoSEAL system for free and play your part."
The ecoSEAL sleeve can be used an average of 75 times and can be recycled at the end of its usable lifespan. In addition, once empty, ecoSEAL foils are eight times smaller than traditional cartridges, meaning less waste is sent to landfill, ultimately reducing disposal costs on larger projects.
DOWSIL ecosEAL  785+ Bacteria Resistant Sanitary Silicone Sealant is a fast cure sealant that gives excellent adhesion to most non-porous surfaces.
Tack-free in 30 minutes, it can be applied in a temperature Range +5 to +40°C and cures to a gloss finish. In addition, the sealant is specifically designed for the sealing of sanitary fittings, including baths, showers, sinks, urinals and ceramic tile joints. It protects against bacteria growth, salmonella, E.coli and MRSA.
DOWSIL ecoSEAL 796 Aluminium & Wood Silicone Sealant a neutral silicone suitable for weather sealing between PVCu, aluminium and wooden door and window frames and most common construction substrates.
Highly flexible, it offers a 10-minute working time and is fast curing, resistant to ozone, UV radiation and temperature extremes.
DOWSIL ecoSEAL 799 Glaze and Go Silicone Sealant is a one-part plastic and glass silicone which provides strong adhesion to most plastics including PVCu and polycarbonate profiles and panels.
With excellent weathering characteristics, DOWSIL 799 is resistant to ozone, UV radiation and temperature extremes.  Highly flexible, it has a working time of 5 to 10 minutes and is fast curing – tack free in 20 minutes.
Geocel Painters Mate is a high-quality acrylic filler for use both internally and externally. Its unrivalled formula offers many benefits over standard fillers and is ideal for hairline cracks.
Highly flexible, Painters Mate is easy to use with no sanding required and it can be overpainted within one hour.
Geocel ecoSEAL THE WORKS PRO is a multi-use sealant and adhesive that can seal, fill, and bond virtually any surface, wet or dry – inside or out. Fast curing, it achieves results that last, fast.
To see who has taken the ecoSEAL Challenge so far, please visit youtube.com/shdUcKwTH_g
To register for a free ecoSEAL sleeve and foil of your choice visit: geocel.co.uk/will-you-take-the-ecoseal-challenge/ or look out for the posts on Geocel's Facebook page.