As part of its latest wave of new product releases, Makita has added the first 40VMax x2 (80-Volt) demolition hammers to its XGT range of high-performance tools. The new demolition hammers feature Makita's high-efficiency brushless motors and have been engineered to deliver all the benefits of cordless power for the highest demand applications.
Both the 40VMax x2 XGT Brushless Demolition Hammer (HM002GZ03) and 40VMax x2 XGT Brushless Rotary Demolition Hammer (HR006GZ) are powered by two 40VMax XGT Li-Ion batteries in series.
This provides performance levels in line with the corded equivalent and the run times needed to maximise productivity.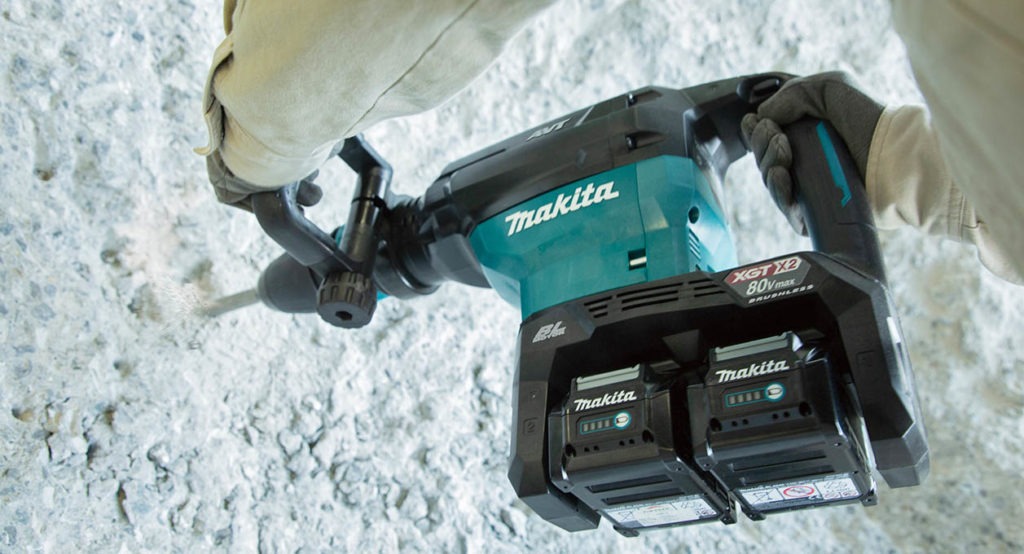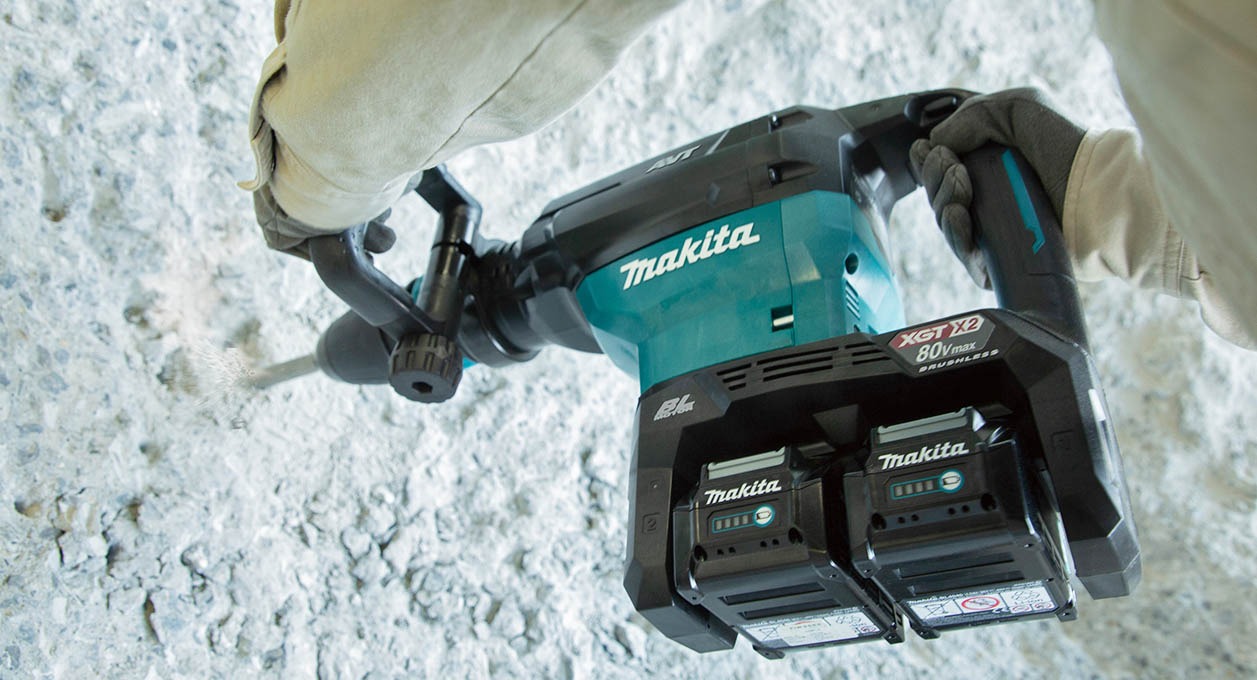 The HM002GZ03 40VMax x2 XGT Brushless Demolition Hammer is compatible with SDS-MAX chisels and has 12 bit angle settings.
It features variable speed control via an easy to operate dial and provides 950 to 1,900 blows per minute (bpm) with an impact energy of 20.9 Joules (J) per stroke.
It also has a comfortable, compact design with a trigger lock-on / lock-off slide lever for ease of use.
Also launched is the 40VMax x2 XGT Brushless 'Rotary' Demolition Hammer (HR006GZ), which has two operating modes – rotary hammer and hammer only. It includes variable speed control, has a drilling speed of 150 to 310 rpm and delivers 1,100 to 2,250 bpm.
The versatile machine is compatible with SDS-MAX chisels, drill bits up to 52mm and core bits up to 160mm. For user safety, the HR006GZ includes a torque limiter and Makita's Active Feedback sensing Technology (AFT), which shuts down the tool if the rotation speed suddenly slows.
Both new additions feature a soft-no-load function and Anti-Vibration Technology (AVT), to reduce the levels of tool vibration and therefore extend safe trigger times.
The tools also benefit from Makita's innovative Auto-Start Wireless System (AWS) functionality, which allows the tool to connect to compatible dust extractors via Bluetooth when fitted with an AWS chip, so the extractor can run automatically while the tool is in use. This means simpler and easier dust management for a cleaner and healthier environment.
The new demolition hammers feature Makita's innovative brushless motors that deliver improved performance and longer run times by minimising the friction and wasted energy within the machine.
Kevin Brannigan, Marketing Manager at Makita UK said: "We are excited to launch the first in our line-up of 80VMax machines, as the next evolution of XGT, continuing towards our vision of a battery solution for all applications.
The launch of these 80VMax demolition hammers gives customers a safer and simpler alternative to corded machines for some of the most demanding tasks.
The products combine our tried and trusted technologies with new innovations in our XGT battery platform to deliver the performance that construction professionals require."
To find out more about Makita's range of high-performance XGT tools visit: www.makitauk.com.