ToughBuilt is showing further evidence of its commitment to developing revolutionary job site products that set new standards in capability and performance.
The US manufacturer has recently extended its impressive range of job site stands with the new QuickSet™ Work Bench.
"The launch of our QuickSet Work Bench means we now offer a full eco-system of job site solutions that can support users with practically any need" comments Matt Handley, ToughBuilt's European Head of Marketing.
"This latest introduction joins a category-leading portfolio which already includes globally respected Mitre Saw Stands, Roller Stands and Sawhorses".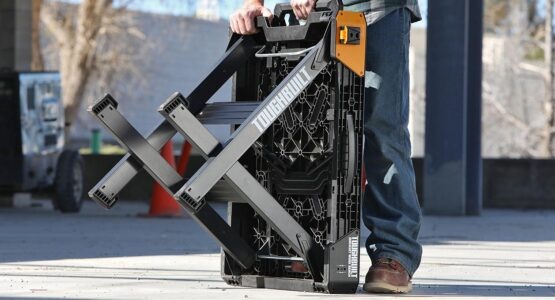 "Far from being some flimsy or frustrating product that struggles with the demands of most site environments and tasks, our new QuickSet Work Bench shares the same DNA as the rest of our range. It is a heavy-duty solution created for the serious user."
Capable of supporting an evenly laid load of up to 455kg (1,000lbs) in weight, the ToughBuilt QuickSet Work Bench can be set up with exceptional speed and efficiency to create a rock-solid, ultra-practical workspace.
It employs a unique and intelligently designed mechanism which allows its robust steel legs to be deployed and locked into position in seconds, simply with a button push and a pull of a handle.
After use, the legs can be retracted with equal expediency and ease using the same method, and the Work Bench can be transported with its easy-carry handle.
As well as being strong, the new ToughBuilt QuickSet Work Bench is also smart. Its surface bristles with well-thought-out features are designed to simplify life for users and to boost their productivity.
This includes multiple 20mm holes and clamping slots along with integrated quick-reference measurement markings in centimetres, inches and degrees. The QuickSet Work Bench is also compatible with ToughBuilt's game-changing ClipTech™ system.
A range of over fifty interchangeable products, including pouches, belts, bags and accessories, the ClipTech system enables users to organise their tools and supplies, such as fixings and fasteners, like never before.
The new ToughBuilt QuickSet™ Work Bench is supplied with one ClipTech Hub attachment point which can be positioned on any of its four corners.
Additional Hubs can be purchased separately.
Like all ToughBuilt products, the manufacturer's QuickSet Work Bench comes with a two-year warranty as standard but with the option of increasing this to 25 years if users register their purchase. This can be done by completing a simple online form on the company's website.
To highlight the numerous benefits offered by its latest product, ToughBuilt has produced a new video about the QuickSet Work Bench which can be viewed on its YouTube channel.
Matt Handley sums up: "As part of its launch, the ToughBuilt QuickSet Work Bench was independently reviewed by respected industry experts and influencers. Unanimously, they praised the product for its versatility, portability and impressive ability to meet the needs of both DIYers and professional tradespeople alike."