There are many possibilities to sell (used) machinery online. TradeMachines, a search engine designed especially for used machinery, is a sensible alternative to the major, well-known search engines.
The focus on used machinery guarantees you a higher quality of potential buyers at comparatively cheaper rates plus a lot more!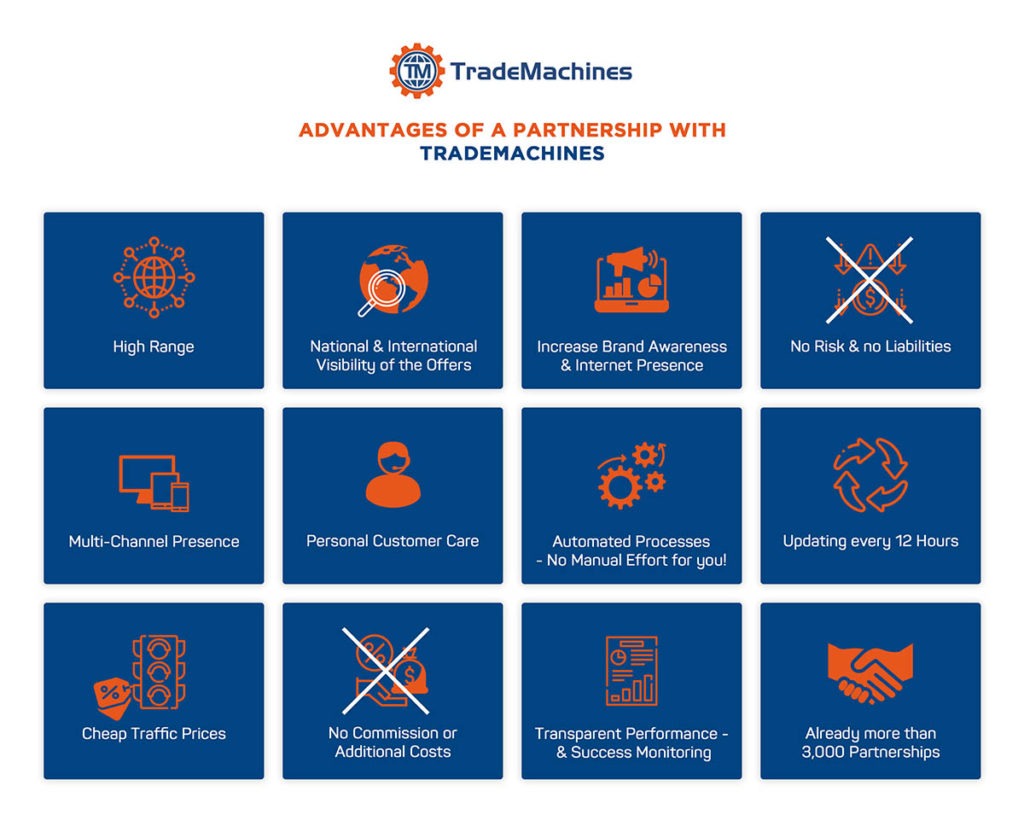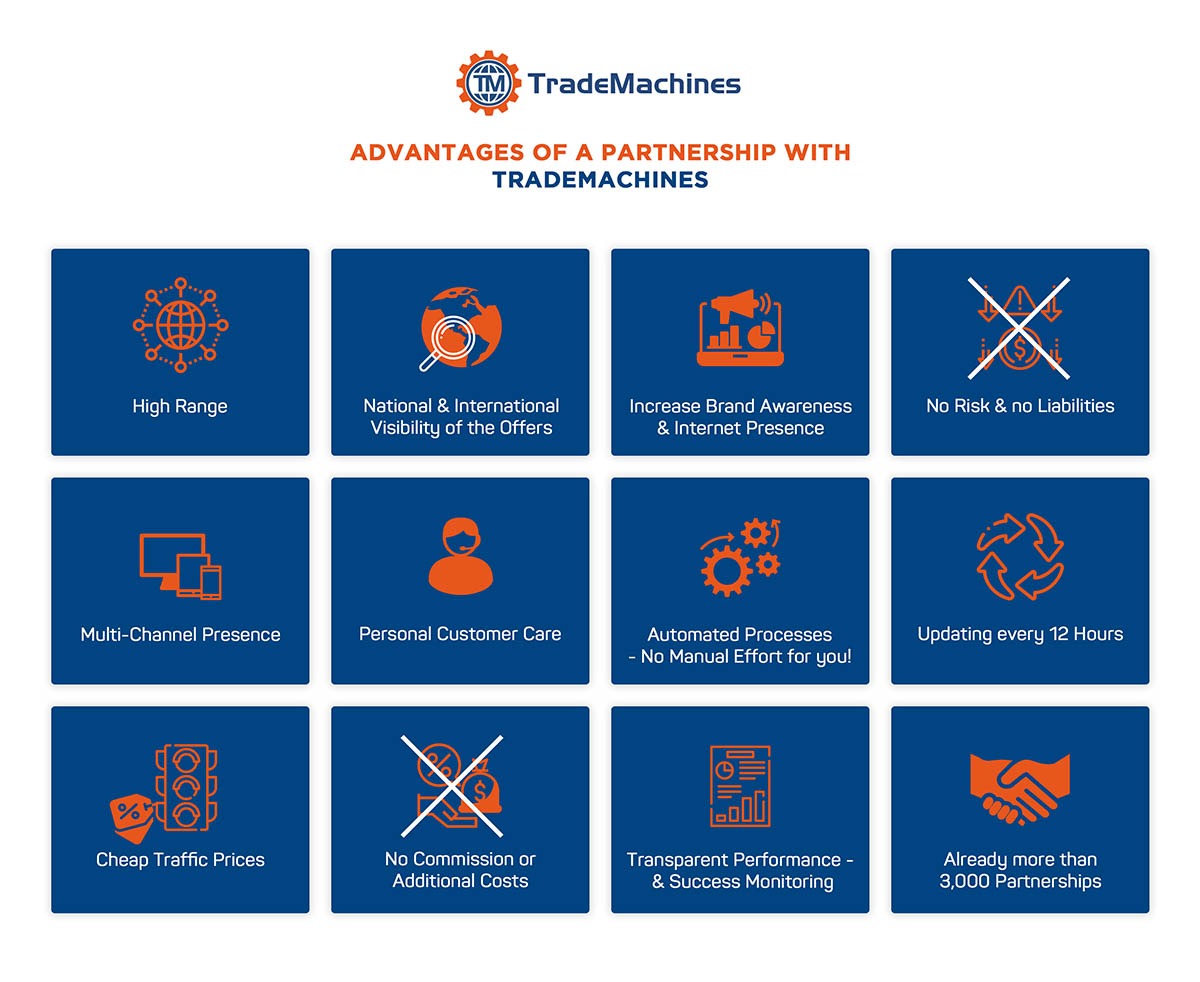 TradeMachines will, upon your approval, take all (or only some) of your offers from your website and display them as a bundle.
There is no further effort on your part, as the offer is automatically updated every 12 hours, so all your machines will always be directed to the website.
With more than 500,000 interested parties worldwide, they provide you, as an ideal advertising platform, with the right advertising and a high reach for your machinery and your success.
By redirecting the potential buyer directly to your website, you and your offers get a higher national and international visibility, which rapidly increases your brand awareness. And the good thing is that you are only a few clicks away from it.
There is no catch!
There is no risk for you as a seller, just as there is no commission for TradeMachines. There are no liabilities, as you can stop or reconfigure the service at any time.
TradeMachines merely redirects potential buyers to the machinery offer on your website, nothing more. They do not interfere in the purchase process, that is entirely up to you.
The data of your buyers and prospective buyers are therefore available to you only. You also decide how much this is worth to you and how you want to pay. Many things can be agreed upon.
As TradeMachines strives to keep everything transparent, you will receive an individual dashboard and a weekly report so that you always have a complete overview (example dashboard of a customer).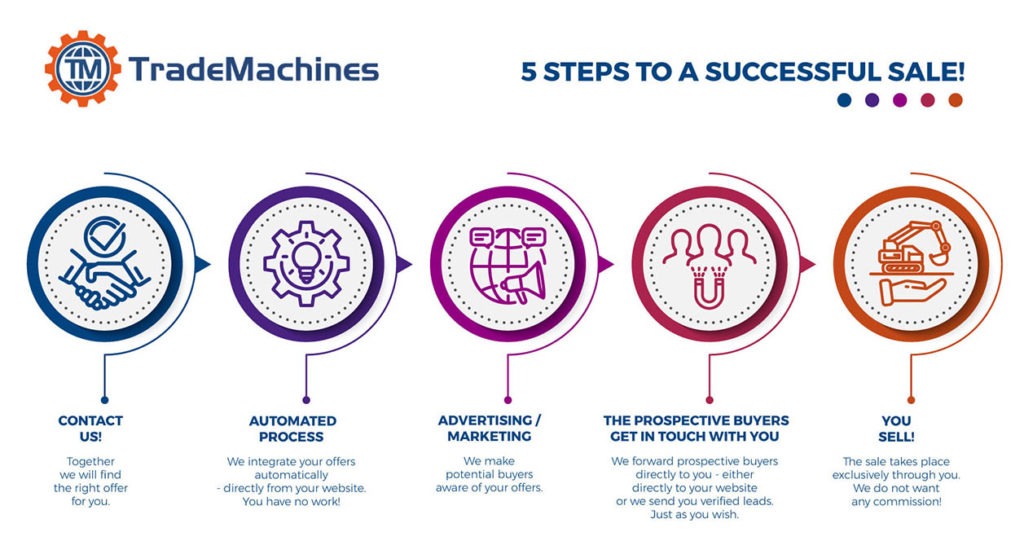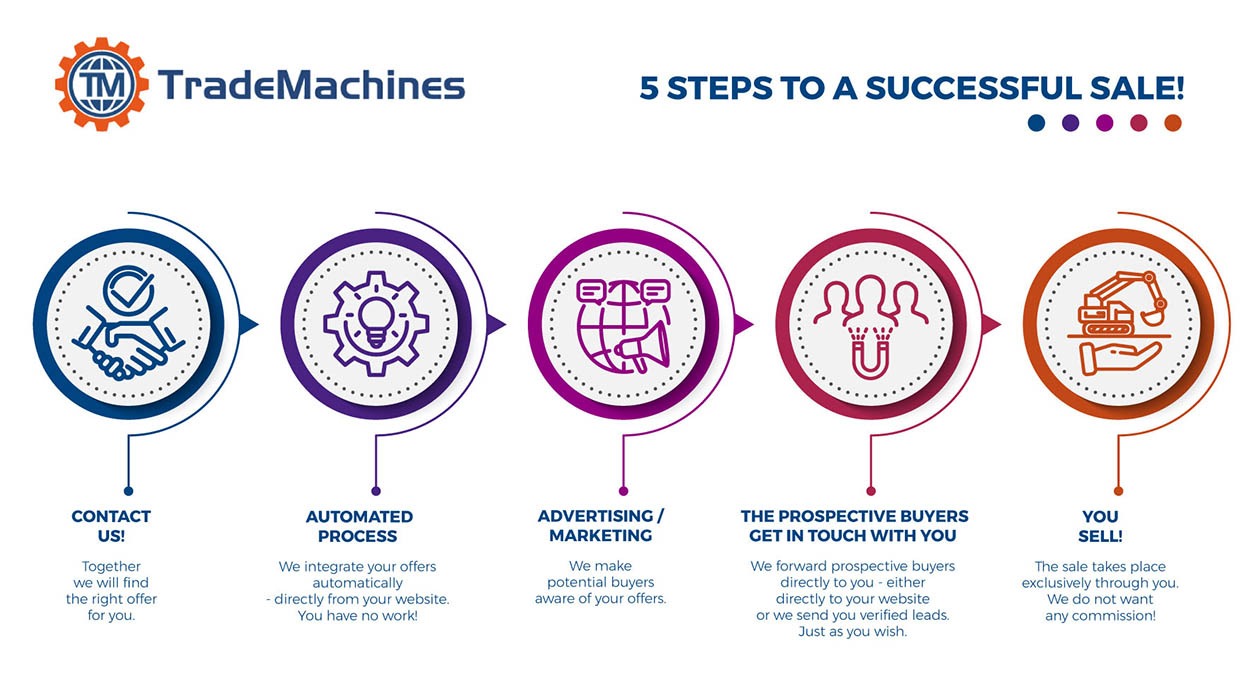 TradeMachines in numbers
More than 500,000 people visit the TradeMachines website every month.
These meet over 450,000 sales offers from 59 countries, which are divided into 9 main industries: construction, metal, agriculture, wood, forklifts, commercial vehicles, process engineering, food and plastic.
TradeMachines links not only machines at fixed prices but also daily changing auctions where used machines of all kinds are sold at particularly favourable conditions. As new used machines are added daily, the TradeMachines team looks forward to a never-ending flood of work. Users can also be happy since they can get a bargain every day.
Search a little, find a lot at www.trademachines.com
See more on finding used machinery with Skill Builder.