Build to rent completions are estimated to double by 2025, according to a forecast from build to rent (B2R) specialists, Ascend Properties.
Build to rent properties are typically owned by funds, institutional investors and real estate investment trusts (REITs), which unlike regular types of housing are designed and built specifically for residents.
Year on year completion trends
Between 2017 and 2018, the number of new build to rent completions reaching the market grew by 1%.
The sector then gained serious momentum between 2018 and 2019, with new completions jumping by 54% on an annual basis. To put this momentum into perspective, new build completions excluding build to rent increased by just 6% during the same period.
Build to rent decline
With Covid causing havoc across much of the market in 2020, it's no surprise that just 10,158 new build completions have reached the market, resulting in a year on year decline of -20%.
However, it is estimated that this decline has been more pronounced across the rest of the new build sector with an -28% fall in completions for non B2R new builds, which once again highlights the strength of the build to rent sector in the current market.
Overall sector growth
Despite this stutter in new completion levels, the overall size of the market continues to increase. Between 2017 and 2018, the cumulative total number of build completions saw the sector grow by 36%.
The build to rent sector then grew by a further 41% between 2018 and 2019. Despite the decline in new completions during 2020, the stock that has reached the market means the build to rent sector has grown by a further 23% cumulatively.
Forecasted sector growth
Based on the best available data for the sector, Ascend forecasts that a further 73,535 build to rent completions should reach the market by the start of 2025. In addition to the existing 53,750 completions already within the market, this forecast could see total build to rent stock hit an estimated 127,285 completions.
Managing Director of Ascend Properties, Ged McPartlin, commented:
"The sector is an increasingly important part of the market, and we see that trend continuing over the next five years.
There's a growing recognition that owning property may not be the norm in the future, as is already the case in numerous other European countries. In the UK's most expensive regions such as London, many already rent for far longer than we've seen traditionally and while we remain a nation of aspirational homeowners, not everyone is as focussed on realising this aspiration.
Therefore it's important that residents are able to live in high-quality properties fit for their needs. This fits this gap perfectly, so it's no surprise that the sector has seen an impressive level of growth in just a few short years, as well as a notable level of investment.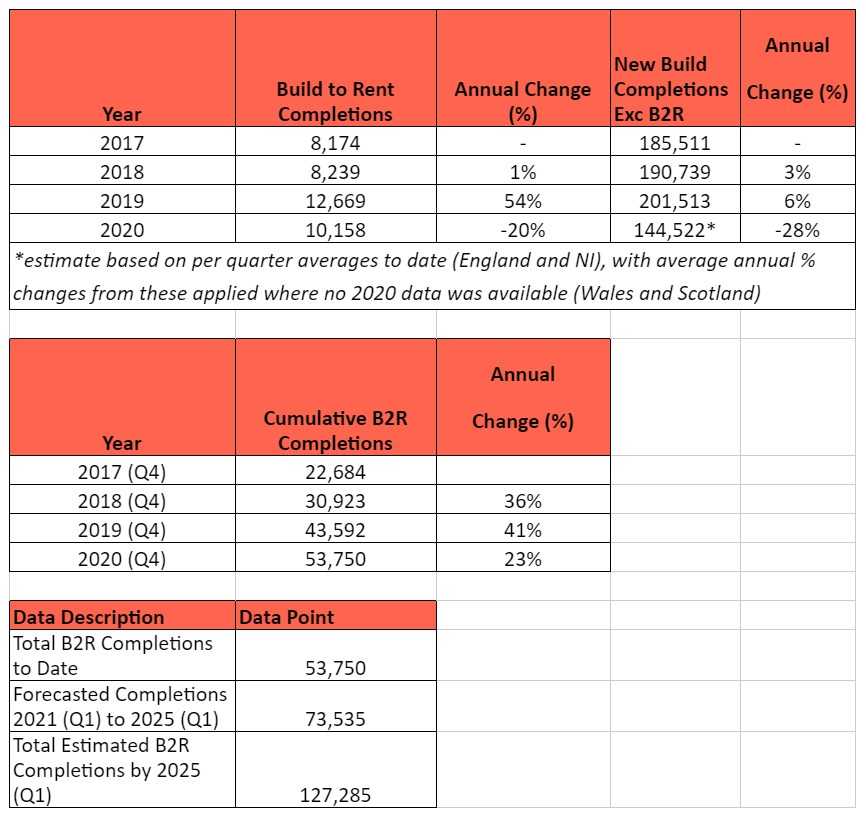 We've seen a number of big housebuilders and institutional investors shift focus towards the build to rent sector in recent years and it has become an integral part of forward planning where stock delivery is concerned. Those yet to realise this are likely to be playing catch up as the sector continues to build momentum in the coming years."
Ascends forecast on completions by Q1 of 2025 done based on historic Build to Rent sector data and using an Exponential Smoothing Forecasting model (ESF), including interpolation, accounting for seasonality, and based on a 95% confidence interval.