Leading power tool manufacturer, Makita has announced its new 40VMax Brushless TW001G 40v Impact Wrench as the latest in its expanding XGT range. Powered by Makita's expert 40V lithium-ion interchangeable battery technology, this powerful, cordless impact wrench is an ideal solution where power cannot be compromised.
With 2,050Nm nut-busting torque and tightening torque of 1,800Nm, the new TW001G XGT Impact Wrench delivers outstanding fastening performance, ideal for industrial applications.
The battery has been engineered to withstand the demands of heavy-duty fastening with a battery vibration suppression system that protects the battery from excess vibration damage. In addition, the TW001G features six optimised fastening controls that tailor the speed and impact for each task, ensuring the fastener or material is not damaged.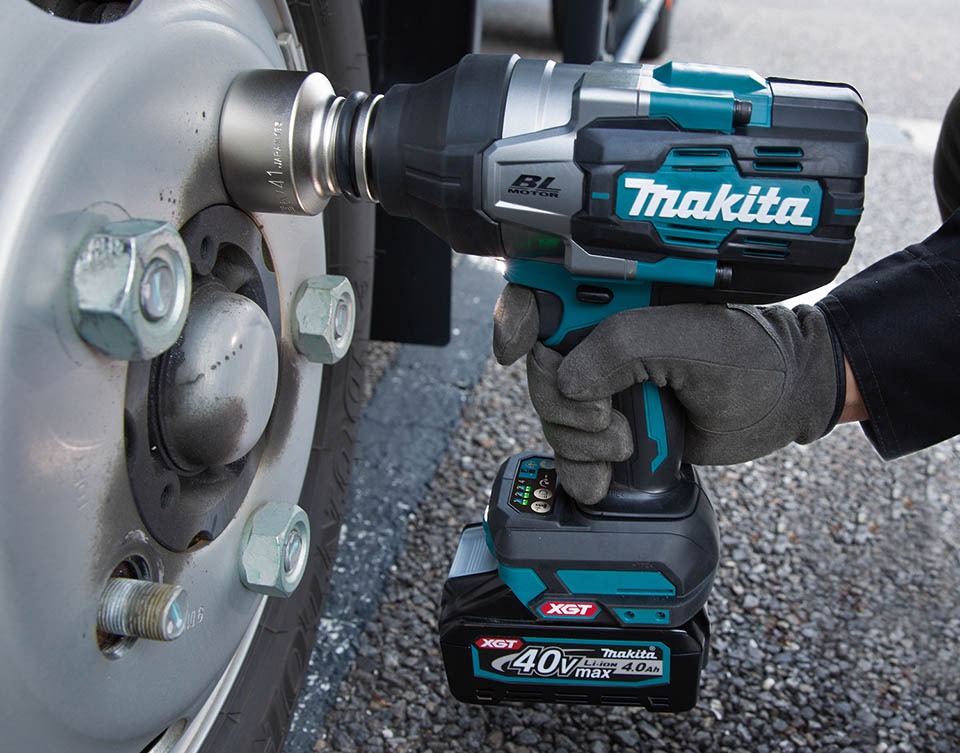 Makita 40v Impact Wrench
Featuring 4-stage impact power selection (Soft, Medium, Hard, Max), the powerful XGT TW001G Impact Wrench includes a full-speed option that shortens the distance of trigger travel, so that full speed can be reached faster. At maximum speed the tool is able to reach 2,500 impacts per minute.
Despite its impressive performance and power, the machine weighs only 4.2kg (with the battery) and the ergonomically designed handle and rubberised soft grip, makes the tool comfortable and stable to use.
"We listen to our customers feedback, and we wanted to create a tool that offers excellent power to weight ration and is easy to use, without compromising on power or quality," says Kevin Brannigan, Marketing Manager at Makita. "An addition to our recently launched 40VMax XGT battery platform, the new TW001G XGT Impact Wrench is ideal for those working in tough conditions with features designed to tolerate the demands of industrial applications and deliver the performance required."
Kevin continues, "Its brushless motor offers extreme efficiency and longevity and the 40V XGT battery can be utilised with other products in our XGT range, offering an even wider choice for a truly cordless job site."
Available as a body only version (TW001GZ), or complete with battery and charger the TW001GD102 model is now included in Makita's latest redemption promotion where users can claim an extra battery free of charge – for details and terms and conditions, visit www.makitauk.com/redemption.
For more information on Makita's powerful XGT range, visit www.makitauk.com.
See more Makita power tools on Skill Builder.