Roger Bisby revs up with the Triton TGEOS Geared Random Orbital Sander.
Ah! life can get very confusing. No sooner do we all get used to a random orbit and then Triton comes out with 'eccentric' orbit.
When does an orbit cease being random and become eccentric or is it the other way round? Is there a difference? So many questions so little time so move on because there is even more to consider here.
A robust and positive lever on the side changes it from 'free run' random, AKA eccentric, to geared fixed for more grunt and less finesse which is what you need for higher stock removal when swirl marks are not a consideration.
You wouldn't, I know, but somebody might operate that button with the machine in motion which is a bad idea because it will crunch the gears.
So now we have sorted out what this Triton TGEOS 500-watt sander can do for you let's look at the rest of it. The disc size is 150mm with 16 holes for 8 or 16 holes pads.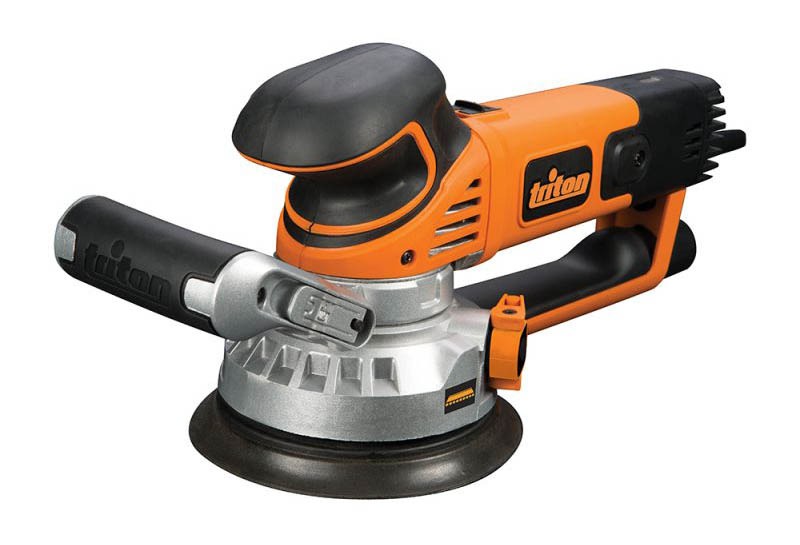 There is also a dust extraction port but no bag which is a shame if you are using it untethered because it kicks the dust out the back and onto the user.
Like all Triton tools, it is out of China but designed in York. If anything, it is over-engineered with lots of magnesium alloy where other manufacturers might use plastic and it has nice big vibration-damping grips which allow you to hold it comfortably even with gloves on.
Triton TGEOS 500W Power
That is a good idea but my instinct and, that of the people in Triton's pictures, is to hold the back end with one hand for better control and there is no rubber over-moulding on the back end.
Presumably, the tests have shown that most of the vibration is on the head and not the body. The large front grip has a quick adjustment lever which moves it up and down and from side to side which is a nice touch.
There is a rubber-covered lockable on/off switch on the top and there is a small thumbwheel tucked into the back end which operates the electronic speed control for constant speed to help prevent scorching or melting and clogging, that sometimes occurs with paint removal.
It even has an indicator to show you what speed you are doing but if you can't judge that by looking at the disc you really shouldn't be driving this thing.
I like the fact that it comes in a Triton zipped holdall with a generous starter pack of discs and a set of spare carbon brushes that are easily changed from the outside. I also like the 3-year warranty and the price is nice.
See more Triton products on Skill Builder.